Once you've decided on a particular wristband style, you can also add more customization options to your bands. Swirled or segmented colors, keychains, glow in the dark, glitter, and card stock all provide even more ways to make your wristbands unique. Swirl colors together for a tie-dyed look or segment colors around the band to support a school or sports team. Card stock helps advertise your business, while the keychain option makes it easy to carry important items with your bands. Options help make your wristbands even more extraordinary!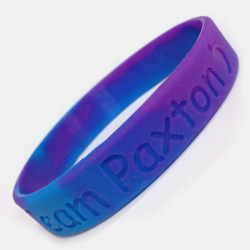 Swirled Painted
Wristbands
Additional $0.06 each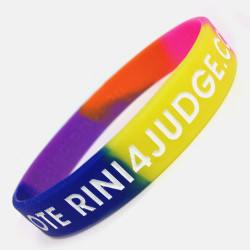 Segmented Paint
Wristbands
Additional $0.06 each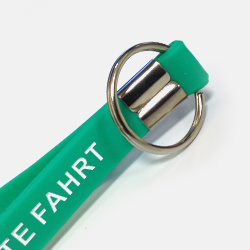 View Pricing Options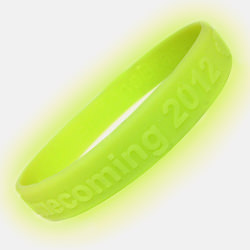 Glow In The Dark
Wristbands
Additional $0.06 each
Additional $0.08 each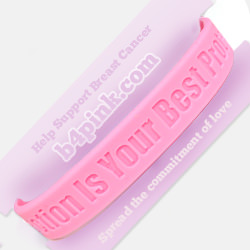 Custom Card Stock
Wristbands
Please Call for Quote
Wristband Colors
We use the Pantone color matching system to ensure we find the perfect color for your wristbands. While we can match to almost all existing colors, please be aware that most computer monitors display colors differently. To ensure an exact match, please visit your nearest print shop and ask to view a Pantone color swatch. To the right, you'll find our in-stock wristband colors for our rush and small-quantity wristbands. We keep these colors stocked and ready to ship, so pick the color that works best for your design. Let us know the color(s) you like, and we'll do the rest of the work!